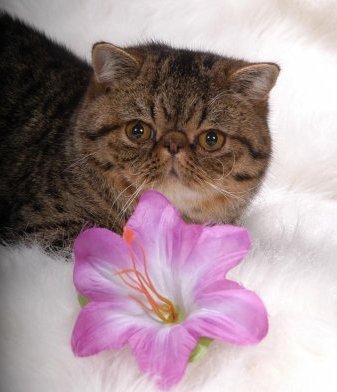 CCCA Gd Ch Jaygee Deden Di Di
Colour: Brown Tabby Sire:
Dam:
Di Di is a brown spotted exotic girl with a wonderful top of head, sweet open expression and a good nose leather. She has a plush coat and great short cobby body.

Ch Wangalo Piper
Colour: Tortie Sire:
Dam:
Piper is a flashy Black Tortoishell girl with a wonderful expression, great nostrils and as you can see, large copper eyes.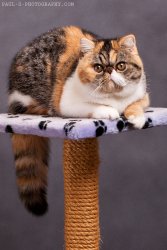 Jaygee Luscious Lollipop
Colour: Tortie Tabby Bi-Colour Sire:
Dam:
Poppy is a tortie, spotted tabby and white with huge round eyes, great coat texture and vibrant coat colour. She has won multiple Supreme Exhibit in Show awards.

Gd Ch D'Eden Lover Whitney (imported France)
Colour: Bi-Colour Sire:
Dam:
Whitney is our new bi-colour girl all the way from France. She brings some new, outcross bloodlines to our breeding program. She has an extremely compact, strong boned, cobby body, wonderful head doming and very open, expressive eyes.