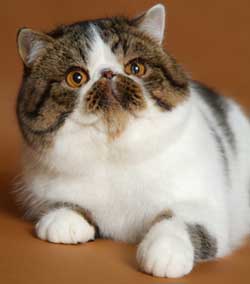 CCCA GD CH & GL DB GD CH Willangi Fernando
Colour: Tabby Bi-Colour Sire: Willangi Buddy Holly
Dam: S*Taragona's Never Ending Story (SWD)
Supreme Exhibit at the 2006 CCCA National Show in Sydney and Group 1 Male Cat of the Year in the 2006 NSW Cat of the Year Awards. Fernando was also Best Group 1 Exhibit at the 2007 CCCA National Show in Melbourne.

D'Eden Lover Stanley (imported France)
Colour: Brown Tabby Bi-Colour Sire:
Dam:
My thanks to Frederic Gaspard of D'Eden Lover Cattery in France for our Stanley. He has lovely, huge copper eyes with a beautiful expression and brings to Jaygee Exotics, some new, outcross bloodlines.